Fans have been expecting a new game from Rockstar games since the release of Red Dead Redemption 2 and they might be finally getting an announcement soon.
Few people on Reddit caught glimpse of a couple of pictures that might be the cover of an upcoming Rockstar game based on robots. Gamers have been debating over whether it's a GTA title or something from the Max Payne storyline and some were speculating that maybe it's from an upcoming L.A Noire series but we don't know anything for certain yet.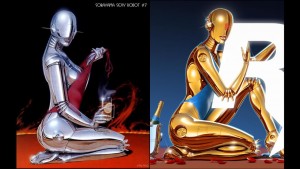 New Sci-fi?
However, a user on Reddit claimed that the posted picture is very much similar to a comic named 'Heavy Metal' and it was famous back in the '90s. It's a possibility that Rockstar might be working on a sci-fi open-world game. Recently, Rockstar also purchased licensing rights to this sci-fi short story featuring robots and it's possible that Rockstar might be eyeing to develop a sci-fi game in the near future or it could be completely something else.
GTAVI, Bully 2 or Something Else?
There are a lot of rumors that Rockstar is working on GTAVI or Bully 2 and few believed that Rockstar is also working on a medieval game. However, it seems like Rockstar is going into a completely different direction.
furthermore, the logo is also embedded with some suspicious words, 'Killing dreams, murdering people, fighting the righteous, bullying the weak' and this might also be a clue that Rockstar is also working on Bully 2 as well.
Maybe Just Rebranding?
There's also a simple explanation as well that Rockstar is just rebranding their logo and all the hype is for nothing. Moreover, many rumors and leaks (Clickbaits) suggest that Rockstar studio is working on a big project and we might get to see some of their content at the end of the year or maybe next year because it's obvious that Rockstar will release their games on the next-gen consoles.
Also Read – E3 2020: Who's coming this year?
What to expect?
Just like always, Rockstar hasn't made any official announcement yet but we're hoping to hear from them soon. In the meantime, fans are really hyped and anxiously waiting for an announcement. But one thing is for certain that Rockstar studio likes to hide their projects under curtains unless the project is ready so there's a slight chance that we're finally getting something new and unique.
That's all folks!